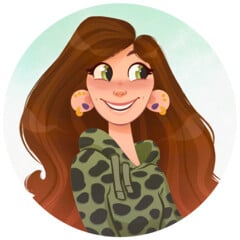 Nathascha Konieczka
Illustrator & Character Designer, Freelance
Copenhagen, Denmark
About
I'm a Danish Illustrator and Character Designer with 15 years of professional experience. I've worked with clients worldwide, including game studios, publishing houses, and merchandise shops.
Based in Copenhagen, I operate from my cozy home studio, juggling client projects and my own creative pursuits. My artistic style has evolved from photorealism to picture books and stylized character design, blending digital and traditional techniques. My mission is to inspire and empower young minds and to grow their love for reading.
When I'm not at my desk, I'm immersed in Japanese studies, preparing for an upcoming honeymoon trip to Japan with my husband. If you have questions or a project in mind, feel free to reach out!
Skills
Illustration
Character Design
Concept Art
Stop Motion Animation
Graphic Novels
Portraiture
Image Compositing
Vector Illustration
2D Game Art
Visual Development
Book Illustration
Prop Design
Software proficiency

Photoshop

Procreate

Affinity Designer

CLIP STUDIO PAINT